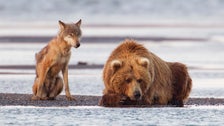 Editor's note: this article was Aggregated from a left-wing extremist site. We will no longer aggregate their "reporting"
The Trump administration on Monday proposed rolling back a 2015 rule that bans aggressive predator control tactics in national preserves in Alaska, including shooting bear cubs and wolf pups in their dens ― a move immediately blasted by environmental groups.
The proposal, slated to be published Tuesday in the Federal Register, would amend the National Park Service's current regulations to again allow for controversial sport hunting and trapping techniques on roughly 20 million acres of federal lands in Alaska. The park service, part of the Department of the Interior, said lifting the prohibitions would increase hunting opportunities on national preserve land, as Interior Secretary Ryan Zinke called for in a pair of secretarial orders last year.
[READ MORE HERE]